Governor's Letterbooks: John Milton (1861-1863)
This collection consists of the first of Governor John Milton's two letterbooks, covering the years 1861 to 1863. The second volume of Milton's letterbooks, covering the years 1863 to 1865, is available for in-person research at the State Archives of Florida in Tallahassee. The digital images included here are made possible through collaboration with the Florida Historical Society, who maintains the originals at their facility in Cocoa, Florida.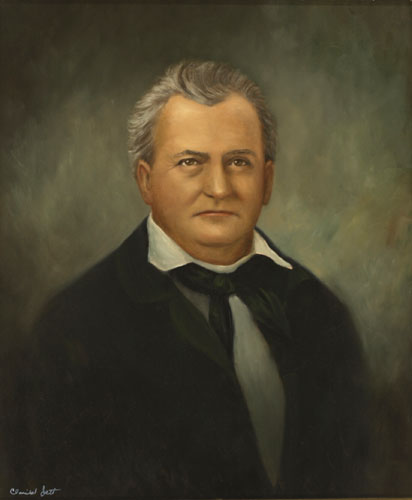 John Milton (1807-1865) was born near Louisville, Georgia. He and his first wife, Susan Amanda Cobb, had four children, only one of whom, William Henry Milton, survived to adulthood. Susan Amanda Milton died in 1840. In 1844, Milton married Caroline Howze of Perry County, Alabama. He and Caroline had 10 children.
Before coming to Florida in 1845, Milton practiced law in Georgia, Alabama and New Orleans. He established a plantation called "Sylvania" near Marianna, and was elected to the Florida House of Representatives from Jackson County in 1850.
A proponent of states' rights and secession, Milton was elected Florida's fifth governor in 1860. He was inaugurated on October 7, 1861. Throughout the Civil War, Milton advocated for greater security for Florida and pressed the Confederate government to maintain enough troops in the state for an adequate defense. Although Union naval forces blockaded Florida ports, launched raids along the coastline, and landed forces which occupied several Florida cities, the Confederacy largely ignored his pleas for troops and weapons. Milton, however, maintained absolute loyalty to the Confederate cause and did everything in his power to meet demands for men and material from Florida. He oversaw efforts by Floridians to furnish the Confederacy with much needed supplies, including beef, salt, and other agricultural goods. As Confederate defeat loomed, Milton committed suicide on April 1, 1865, stating before his demise that "death would be preferable to reunion" with the North.
For more on John Milton as Governor of Florida during the Civil War, see Ridgeway Boyd Murphree, "Rebel Sovereigns: The Civil War Leadership of Governors John Milton of Florida and Joseph E. Brown of Georgia, 1861-1865," (Ph.D. dissertation, Florida State University, 2006).
---